Main content starts here, tab to start navigating
Claudine Core Values
Claudine Artisan Kitchen & Bakeshop was born out of Chef's Anthony & Lea's desire to share their love of cooking in the community they were raised in. The name Claudine is a family tribute to Anthony's sister who lost her battle with cancer, but not before inspiring him to pursue his dream of opening a restaurant. Anthony connected with long time family friend, Chef Lea, and the two decided to partner Lea's skill in the Bakeshop and Anthony's prowess behind the stoves in an effort to redefine the culinary landscape in the San Fernando Valley.
Claudine is an All Day Brunch Cafe that is dedicated to serving food that has a story using high quality, wholesome ingredients sourced from local farms and using the best quality, humane and naturally raised meats, seafood and poultry. Our goal is to satisfy our guests with the simple pleasure of a great meal. We focus on fresh, seasonal ingredients to make heartfelt, delicious sweets and flavorful dishes that Anthony and Lea grew up eating here in Los Angeles. We do this through developing a culture in our restaurants that is based on our core values and supported by team members who have a desire to deliver on that commitment.
Integrity
To us, integrity is not just a word, it's an action! Our ambitious goal is to provide our guests a great hospitality experience and serving only the highest quality, naturally raised and responsibly sourced ingredients in dishes inspired by our multi-cultural upbringing. Ultimately, we want our guests to not only feel good about their choice to dine with us, our goal is to create great memories. Our guests can depend on us to set the highest quality standards for every aspect of our operation and hold ourselves accountable to these standards.
Gratitude
As a company we sincerely appreciate the opportunity to serve our guests, employ our team members and for the chance to grow our company and to contribute to an evolving local dining seen. We believe the key to happiness is being thankful for what you have been given and earned, and focusing on what you have, not what you don't.
Persistence
Our dream is be our best and achieve nothing short of operational excellence. While integrity keeps us on course, persistence fuels our drive to never give up. We want all of our team members and management to work with one simple principle in mind, "we must have relentless follow thru with every action we take."
Family
Claudine Artisan Kitchen & Bakeshop is a family owned and operated business. To us, there is nothing more important than family, which includes our extended restaurant family of team members, guests and suppliers. We believe family are the people you want to take care of and protect, they are the reason for living and doing, they inspire us to greatness and fill our lives with love. With our core values as our guide, family is our driving force.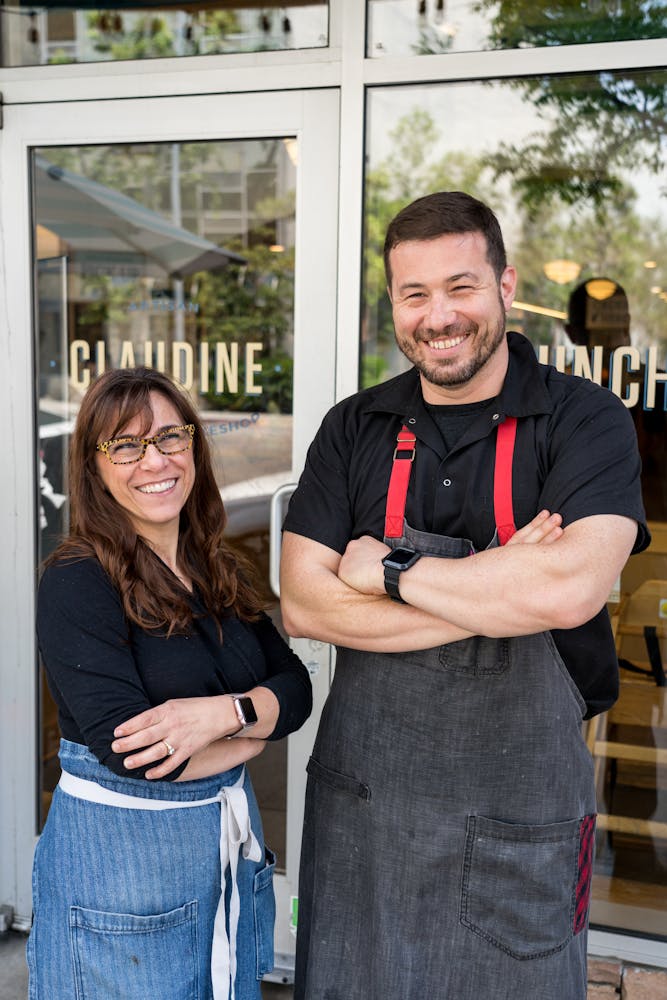 Anthony Jacquet
Chef/Owner
Lea Newton
Pastry Chef/Owner